Author: Bird Dog
Date: Nov. 17, 2022
Smoking a turkey can feel intimidating, but it is actually just as easy as cooking one in the oven and it's sure to be a turkey that your friends and family will love to eat!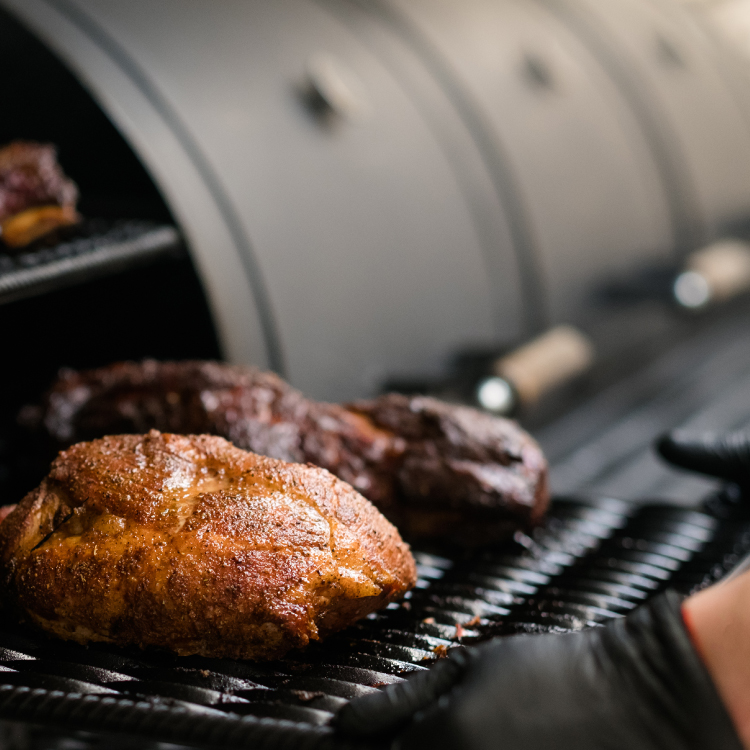 1) Choose Your Turkey:
Picking the right turkey is all about poundage. How many people do you need to feed and how many days of leftovers do you want. We have found at least a pound of turkey per guest is a good rule of them and also a pound per extra meal you want as a leftover.
Taking a moment to google and call around to find where the best deal is will also serve you well. Many grocery stores have coupons that can lead to big savings for your big meal!
2) Prep the Bird (turkey):
1. Allow the turkey to defrost in a refrigerator for a few days prior to cooking.
2. On the day of, get the bird out and resting a room temp. They dryer the skin the crispier the skin will be as a finished cook.
3. Add your favorite seasonings to a melted butter concoction and baste on thoroughly.
4. Add herbs and celery to the middle of the bird to seal up the cavity. This will help keep it moist during the cook. Tie up the wings and legs so that you have a nice tight bundle and head out to the smoker.
2) Prepare Your Smoker:
1. Preheat your smoker and get it nice and hot. We like 325° F, and keeping it consistent will be the secret to a good smoke. So pellet guys your work is easy. Wood fire guys you will need to babysit the fire so stock extra beer for the job.
4) Smoke Your Turkey:
1. Place the turkey on the grate breast up. That's right no tent, just probes and smoke.
2. Smoke for 3-4 hours or until the temperature reads 165° F in the breast and 175° F near the thigh.
3. Remove from smoker and let it rest for 15 minutes before carving. If desired, use baste while cooking to keep moisture inside of the meat.
4. After resting, carve and enjoy this smoked delight!
* note the size of your turkey will determine how long to cook it. Please use probes to make sure you have safe temps for serving.
5) Enjoy your smoked turkey!
Smoking a turkey is actually one of the easier ways to prepare this famous meal. We know that great responsibility lies with the cooker of the turkey so we commend your bravery and wish you luck!
If it all goes to hell, and sometimes it does… at least someone else made the sides.
Happy Thanksgiving!