Author: Travanimo
Date: Aug. 14, 2022
The show takes place in 2019 AD, on a normal sunny day, just like today. It's the perfect weather to wear an anime hat to keep the sun out of your eyes. Suddenly, a strange flash envelopes all of planet earth. This strange light turns out to be a catastrophic event. It begins turning all of earth's creatures into stone. For 3,700 years mankind is petrified. At long last, Senku is able to break free from the stone and sets out to rebuild civilization by utilizing the power technology through engineering, chemistry, math, and more.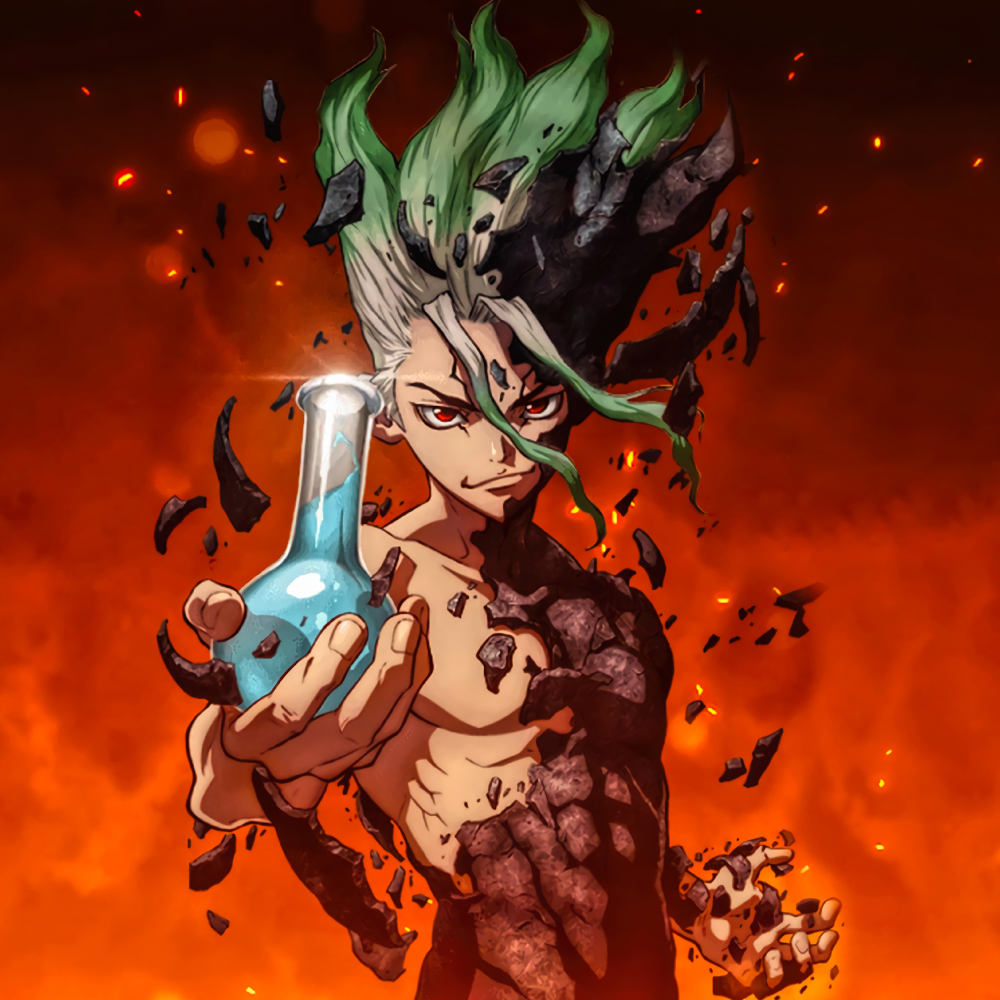 Dr. Stone is a Japanese series written by Riichiro Inagaki, and illustrated by Boichi. The series is about a genius named Senku Ishigami. An anime made for television series was aired at the end of 2019. The series was well received and a second season was launched early 2021. After the second season over ten million copies were in circulation. Season three is coming April 2023. Put your anime hats on and get excited!
The show catches both manga readers and anime followers with the power of friendship, determination, and strength of intelligence. The show is scientifically accurate. Each episode is packed with useful and fun facts about engineering and chemistry. It's a bright reminder of how far we've come as a species. The technology available to us in our day to day lives is exceptional.
The show has grown from a manga, into a tv series, and now has it's very own smartphone game that was released in 2021. As it grows in popularity the ever growing amount of merchandise is likely to swell. Cool hats and rare items made using the power of technology. Below are three hats made with some incredible engineered man made machines that Senku would definitely appreciate. Although Senku doesn't wear a hat in the show, how could he with that hair… Suiki would certainly be tempted to wear one of these Dr. Stone hats. There are a lot of anime hats in circulation, but these are some of the coolest hats we've seen.
The commercial embroidered hat
IMAGE
This made in Japan wonder has fifteen separate needles. It's a true industrial demonstration of strength and mechanical engineering. Look at this multicolor threaded hat it made in a matter of minutes. A Dr. Stone that captures the enthusiasm and energy of the series. This hat was made by 3000 Hat Company and friends.
The commercial laser hat
IMAGE
This American made laser cutting, engraving, absolute beast uses a CO2 (Carbon Dioxide) to provide a wide range of possibilities. For example this custom leather patch hat. This hat was made by 3000 Hat Company and friends.
The PVC mold machine
IMAGE
This flexible rubber PVC Patch machine can dispense up to twelve separate colors in just one design. Liquid PVC is accurately dispensed into a hard mold to create truly one of kind patches. This one would most like be Senku's hat choice. This hat was made by 3000 Hat Company and friends.